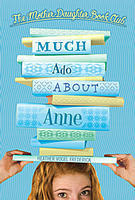 Much Ado About Anne is the second book in the Mother Daughter Book Club series, by Heather Vogel Frederick.The girl on the cover is Cassidy.
Much Ado About Anne

Author

Heather Vogel Frederick

Publisher

Simon and Schuster Children's Publishing

Pages

352
Plot Summary
Edit
The chapter starts in the Delany's kitchen, where Megan, Jess, and Emma are 'whipping up' a concoction. (That's right, a concoction.) Jess's mother almost sees, but the girls don't let her, and after Emma changes into one of Mrs. Delany's T-Shirts (she's too big for Jess's) they go out to the barn.
There, they trick Jess's twin brothers, Ryan and Dylan, into thinking it's an invisibility potion. Later, Jess gets in trouble for teasing and is told not to do it again. Cassidy comes in and starts crying. At the end of the chapter she reveals that it's because her mother has started dating again.
When the chapter starts, Cassidy is at her locker, fuming about Stanley, her mother's new boyfriend. In math class, she stands up for Emma when Becca starts teasing her. Cassidy also talks about how Jess and Kevin Mullins are in really advanced math.
Later, at lunch, the book club, some jocks, and a bunch of other people sit down at lunch together. The table talks about how the school is starting a school newspaper. Emma has been asked to write, Zach has been asked to cover the sports section, and Becca has been asked to do the calender. Cassidy volunteers to take pictures, because her father taught her in California.
The chapter ends with the first mother daughter book club meeting of the year. The mothers reveal that they are having a new mother daughter addition to their club- Becca and Mrs. Chadwick! After discussing a couple of books, the group decides on Anne of Green Gables, by Lucy Maud Montgomery. At the end of the book club meeting, Mrs. Sloane goes out on a date with Stanley.
Emma and her mother are getting ready for the book group and filming of the Mother Daughter Book Club tea party episode of Cooking with Clementine. Emma is thinking about the meeting for the school newspaper, where Becca and Katie, an 8th grader, are teasing her. She and her mother decide that she might feel better about herself if she did a sport, and Emma decides that maybe she should try figure skating.
At the Sloane's house, Becca and Mrs. Chadwick struggle to be civil in front of the camera. Although it's rough, the group makes it through. The chapter concludes with Mrs. Sloane announcing that they've been asked to be on "Hello Boston", and Emma remarking in her head that live TV with Becca Chadwick will be a disaster. Also, Emma's mom gets carried away, and she talks about Emma's imaginary friend, Waldo, from when she was five!